Is your office job killing you?
---
Wellbeing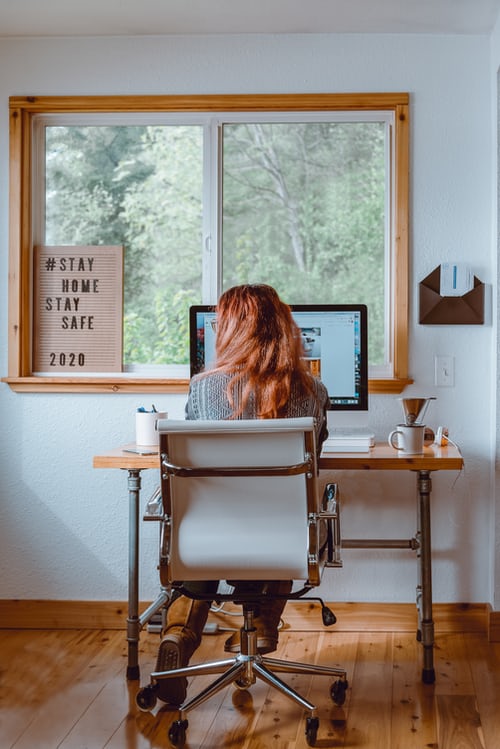 A desk jockey's guide to staying in shape without lifting a finger.
Without our health, what do we have? Keeping up our physical and mental wellbeing, especially during a crisis, and maintaining consistency in our lives will help ensure we emerge from stressful times in the best shape possible.
As a seasoned desk jockey, it's easy to become envious of those who have evolved healthy habits that feature daily exercise, good nutrition and lashings of self-care.
The reality for many of us is that gym memberships are guilt-money. But that doesn't mean we are condemned to a life of ill-health.
The three main factors of good health relate to our physical, mental and social or physical wellbeing. Having signed over my physical health to my Apple watch, I now know when and how to stand, breathe and 'close my rings'. Job done.
There are plenty of Apps that promise to improve mental wellbeing through meditation, visualisation etc. These periods of 'lockdown' and social distancing have challenged us to be creative in order to remain connected with others and aware of our own thoughts and feelings. WNA's Socialise at Sunset is a great example of how the virtual world can help us maintain and even expand our social connections. (I'm sure the glass of wine helps too…)
Checking in with others is a big help in the mindset department. The Bahari Bay Company, based in Brisbane's bayside, works with individuals to set goals and achieve their desired outcomes. Making a plan and having someone to help you stay accountable and moving forward will give you back control and capacity in your life.
Oh, and the Bahari Bay Wellness Studio was also recently named one of Brisbane's top 5 massage studios so you can tick off "life-changing massage" on your list of life goals too.
Bahari Bay is a one-stop-shop for good health, including as maker of the unique, all-natural Crystal Smelling Salts. Just 2-3 deep inhales of the Rejuvenating or Alleviating blends allow you to ground yourself and anchor yourself in happier memories. And I'm assured that it's okay to have a jar in every room of the house, and in the car, the handbag and on the desk…
It's likely that the extra time at home during the COVID-19 lockdown has sent you in one of two directions:
exercising more than usual to help pass the time.
eating and drinking more than usual to kill the boredom.
If you went down route one, good on you! No seriously, good on you! I'm not a bit jealous.
If you are doing more physical exercise than usual, make sure to incorporate recovery time into your day and allow your muscles time to rest. (I secretly know that's why people exercise… it's all about the relaxation bath at the end of the day.)
For those suffering from muscle cramps, All Organic Store stocks a range of magnesium-rich products that may help your muscles recover quicker and reduce cramps. (They also stock a delightful range of Noosa Natural chocolates… just saying…)
If the comfort eating and drinking route was 'COVID-you' (don't be ashamed, you are not alone), perhaps it's time to take stock and consider the long-term impacts this may have on your overall health. I'm advised that Therapeia Australia Organic Turmeric capsules or Love Your Gut Diatomaceous Earth capsules can improve gut health and aid digestion. But let's be honest, I'm still sampling the Noosa Natural range…
These ideas may provide some TLC for your mental and physical wellness. What about environmental wellness? For the desk jockey, the workspace really is a second home. "COVID-safe" is now entrenched in our language and hand hygiene (also known as 'sandpaper fingers') has become part of our daily ritual.
Our environmental wellness isn't just about being clean, it's about being green as well. Reducing exposure to toxins and ensuring that the home, office, car and anywhere else you spend considerable time is well cleaned can contribute positively to your mental and physical wellbeing also.
If you own a business or run an office, the health of your staff and customers is a paramount responsibility. Engaging a quality, professional cleaner will ensure that touchpoints such as light switches, taps, phones, keyboards and more are properly cleaned, along with the standard surfaces and floor coverings.
Brisbane-based commercial cleaning company, Bluestar Cleaning Services, has been in the business of 'good clean health' for more than 20 years and has an excellent reputation with a stable of long-term clients.
Word-of-mouth referrals are a powerful marketing tool, which is why Bluestar Cleaning Services have been able to maintain and grow their business in the face of competitors. Importantly, they provide building and business owners with peace of mind through quality care of your workplace, and COVID-safe cleaning.
We can all aspire to healthier lives and – with a little help from my friends – I'm taking steps in the right direction, remembering that laughter is the best medicine of all.
---
Back to WNA Blog
---