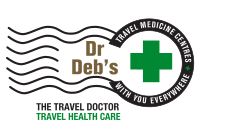 Dr Deb - The Travel Doctor
---
Deborah Mills
Owner
Dr Deb is a medical doctor with a passion for medicine and travel. She has 30 years experience in making sure travellers get the 'right stuff' before departure - vaccinations, medical kits, and critical 'been-there-done-that' practical information to ensure travellers make the most of their journey. Her clinic is in the Brisbane CBD. Ideally you need to seek medical advice 6 weeks before departure. If you are travelling for work we can also supply the paperwork you need for OH&S dcoumentation.
---
Areas of Expertise
---
Awards
Surgeon General John White Medal - 2013
---
Education and Qualifications
1983 - Bachelor Medicine Bachelor Surgery (MBBS) University of Qld
2016 - Master of Public Health and Tropical Medicine (MPHTM) James Cook Uni
---
Articles on Women's Network
---
Member to Member Offer
Members who have a consultation at the clinic get a free copy of the book, Travelling Well - The must have guide to a safe and healthy journey - either paper or digital version. Also a free ' yellow book' - the international vaccination record book.
Deborah Mills
Member since

27 August 1999

Phone

07 3221 9066

Address

GPO Box 2832
Brisbane


QLD

4001

Connect with me
Visit website