QLD – Twilight Networking and Hot Topic
---
QLD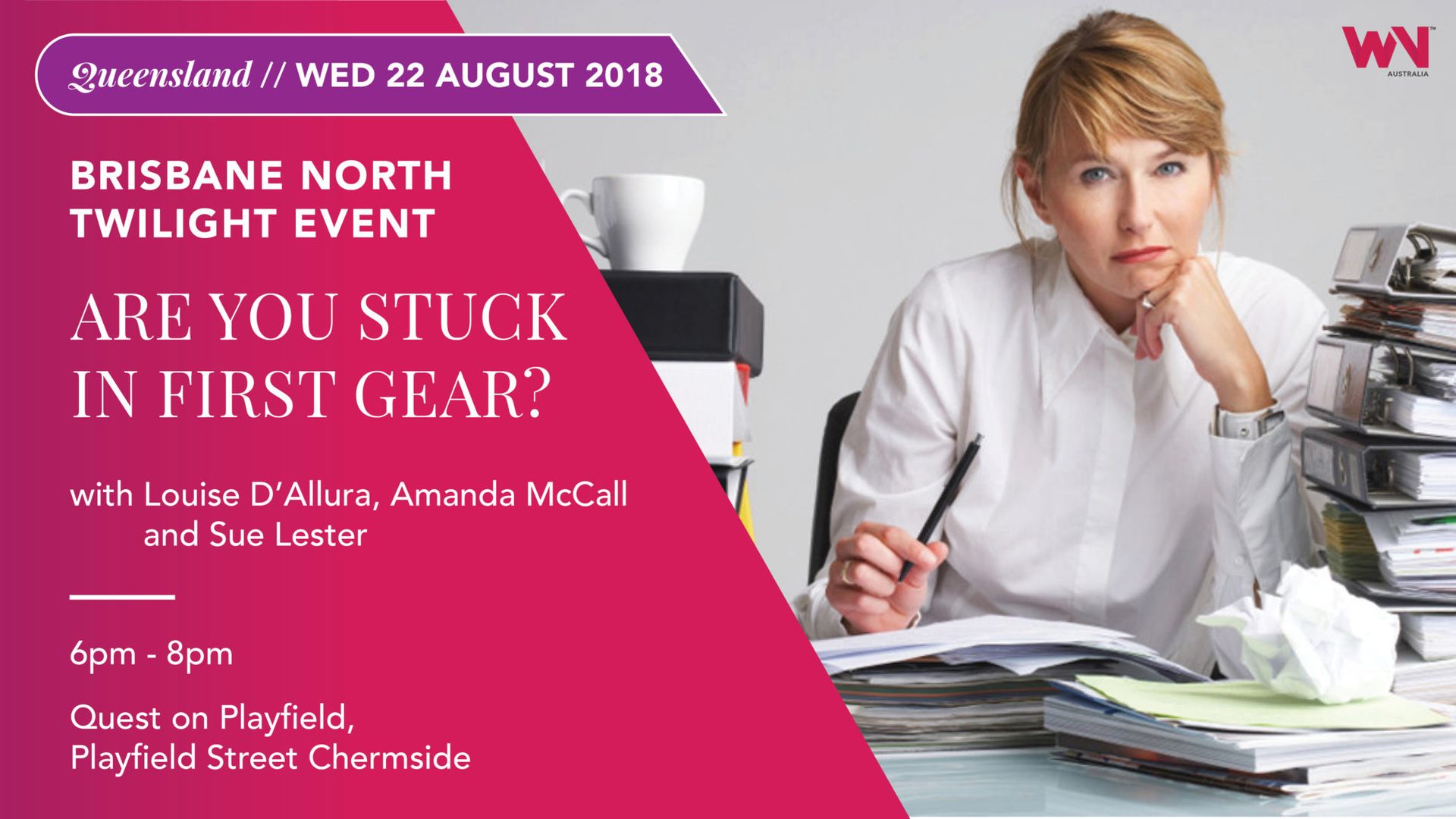 Panel Discussion: Are you Stuck in First Gear?
Speakers: Louise D'Allura and Amanda McCall and Sue Lester
Panel Discussion – Are You Stuck In First Gear?
This session addresses the three of the most important resources we need to manage: Time, Money and our Personal Power! Disorganisation is a common cause of stress , in families and in our work life – especially for business owners trying to juggle it all. This panel discussion will provide a fantastic starting point to help attendees explore over a glass of bubbly, practical ideas to master their mental game, their financial game and life game in one evening.
Louise D'Allura will explain how organisational skills is a key ingredient for success in life. Louise will show you how your efforts to be organised, find more time and energy are sabotaged by Productivity's Triple Threat (TM) of people pleasing, perfectionism and procrastination and what you can do to get back on track.
Amanda McCall will give you an insight into what you can do (for yourself) in one hour – to help towards gaining financial control. Amanda will also highlight where you may need the assistance of a Financial Planner – because you don't know what you don't know!
Sue Lester will highlight that no matter how much money you earn, until you feel successful on the inside too, you'll never truly be wealthy. Until you feel successful on the inside too, you'll never reach your full potential, as there will always be doubts, delays and second-guessing hindering your progress. Understanding what Personal Power is, and where yours may be leaking away, is a crucial step forward.
It will be lots of fun and an effective way to create an abundance of new business connections in a supportive and dynamic environment. Sip, sell and socialise and fast track your networking and business opportunities.
This panel discussion will provide a starting point to help attendees explore how important it is to find "me time", see where productivity's triple threat (TM) might pop up and find the inspiration to introduce more creativity and joy in their life.
---
About Our Panel
Louise D'Allura's area of expertise is in the area of Wellness and Productivity. As Creator of the WELL Productivity® Professional Support Program, Louise supports individuals and organisations to cultivate positive, productive and proactive habits that support peak performance in life and work.
Amanda McCall is a Certified Financial Planner with over 20 years experience. Her clients are normal, everyday people who decide to act now to lock in their future prosperity. Amanda helps her clients create a crystal clear plan and encourages them to educate themselves about how to get the most from their plan through access to quality benefits, information and support.
Sue Lester specialises in clearing 'head trash', and known as the 'Catalyst of Change', Sue Lester is an international Mindset and Identity specialist, facilitator, adventurer and author of 'The Face Within: How to Change Your Unconscious Blueprint'.
How It Works
We start off with delicious canapés and drinks on arrival so don't be late because you'll need to fuel up for your networking workout.
You will have the chance to participate – WNA Style with your 30 second elevator pitch in a fun and supportive environment not to mention expending on your networking skills.
---
What you Will need
Business cards –  you won't be able to participate effectively without them. Make your 30 seconds count and don't forget your sense of humour.
---
How to promote your business at this event
Lucky Door Prize: If you are a WNA Member, bring along a lucky door prize and brochures for the networking table. This is a great opportunity to promote your business and gain a bit more leverage on the night. Call Head Office on 1800 052 476 if you need more information.
---
Menu
You will receive a complimentary drink on arrival along with a delicious selection of canapes.
Special Diets: If you have any dietary needs please ensure you indicate this in the comments section of your booking form. To discuss further contact us on 1800 052 476.
Parking: There is parking at the back of the Shop as well as off-street parking.
Tickets: Members $39.00 | Visitors $59.00
Come along for the first time at Member rate – ASK ME HOW! Join WNA now and attend at the discounted Member Rate.
Event details
---