Women's Network Australia (WNA) is not just an organisation, it's a community. Our members are successful businesswomen with competing demands on their time. Nevertheless, charitable and community support remains high on their agenda.  Giving back is in our DNA at WNA.  And we know that when a woman helps another woman, everyone wins.  Over the years, WNA has leveraged our network to help organisations raise awareness and funds to support people who need it most. Below are just some of organisations we have supported:
The Carers Foundation Australia
WNA's 2022 Charity Partner
The Carers Foundation Australia provides unique wellness programs to support the emotional, physical and mental wellbeing of unpaid Carers. Their vision is to provide a new, purpose-built Education and Wellness Centre for Carers. The Foundation is led by  Founding Director, Ronnie Benbow, along with a Board and active Ambassadors, supported by a qualified team of professional therapists, counsellors and dedicated volunteers that live the motto We Care for Carers.
---
Mind Your Fashion
Charity of Choice
Mind Your Fashion is a not-for-profit organisation designed to raise awareness and support those who work in the fashion and creative industries and experience mental health issues. Founded by Jude Kingston, the vision of Mind Your Fashion is to create a positive change within the Fashion and Creative industries for individuals who have encountered challenges through mental health issues within the workplace.
---
Breast Cancer Trials
Charity of Choice
Breast Cancer Trials is a group of world-leading breast cancer doctors and researchers based in Australia and New Zealand, committed to exploring and finding better treatments for people affected by breast cancer through clinical trials research.
Together we are grounded and defined by one simple belief: We can and we will find new and better treatments and prevention strategies for every person affected by breast cancer to save lives today, tomorrow and forever.
---
Women's Legal Service Queensland
Charity of Choice
Women's Legal Service is dedicated to creating safer futures for Queensland families impacted by domestic violence. Our small staff team and over 100 volunteers provide free legal and welfare help to women and their children who are often living in fear. Our Statewide Helpline, drop in sessions, outreach and hospital programs provide over 30,000 vital services each year. However, due to increasing community need, 30% of calls can't be answered. Everyone deserves to live in safety and our aim is to ensure help is there when it is needed most.
---
JODIE PURVES YOUNG CRICKETER DEVELOPMENT SCHOLARSHIP
Donor
Former Australian Cricket Captain, Jodie Purves (formerly Jodie Fields) established a scholarship in her name after transitioning from professional sport to take up a career in business. Women's Network Australia is a proud donor to the Jodie Purves Young Cricketer Development Scholarship, helping young girls in rural and regional locations with funding to support their educational and supporting dreams.
---
SHARE THE DIGNITY
Share the Dignity is a not-for-profit charity, founded by Rochelle Courtney, providing homeless and at-risk women Australia-wide with sanitary items to alleviate period poverty. More than 4,100 volunteers and some of Australia's biggest corporate support the charity, which has collected in excess of 1.9 million packets of sanitary items since forming in 2015. Courtney designed a world-first Dignity Vending Machine, known as the Pinkbox to dispense a free period pack of sanitary items. Pink boxes are being installed in at needy areas nationwide. Share the Dignity now also runs a Christmas appeal called #Itsinthebag where women are asked to donate a pre-loved or a new handbag filled with sanitary items, some of other life's essentials plus any other gift they may wish to donate.
---
Support The Girls Australia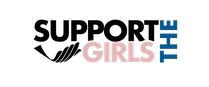 Support the Girls is built on integrity and focussed on engaging and connecting with any disenfranchised woman/girl whether she be homeless, impacted by the loss of a partner, a refugee, rural woman, indigenous woman or transgender. Spaces are created for women from all walks of life to foster relationships with other women in the community, regardless of income, creed, age, or cultural background.
---
Open Haven
Open Haven is a registered charity that provides a safe and confidential place for women who are survivors of domestic violence abuse.  We provide emotional and practical support, as well as help women to understand, navigate, and access all available professional services.
---
Neuroblastoma Australia
Neuroblastoma Australia is a national registered charity focused on raising funds to improve the survival rates of neuroblastoma childhood cancer. Neuroblastoma Australia started due to the inspiration of one little girl, Sienna Hoffmann. Sienna's Mum, Lucy Jones was compelled to start fundraising after she lost Sienna to this disease when she was just two and a half years old. The charity has a world-class Scientific Advisory Board that ensures only the most promising research is funded. In addition to research, the charity provides support to families affected by neuroblastoma.