Learning As A Leader – A Manager's Guide To Upskilling
---
Human Resources and Career Advice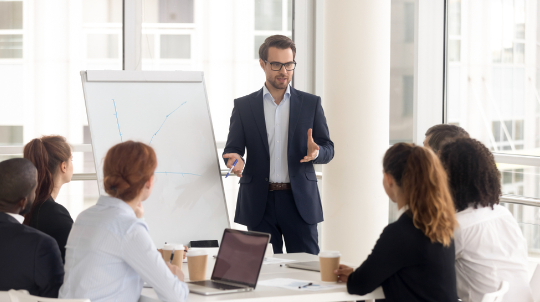 Many managers reach a particular level on the career ladder and become stagnant with their own professional development. This will no longer be an option in the current business landscape, however, as things move too quickly. Technologies, strategies and best management practices are changing all the time, and so it's in the modern business owner's best interests to keep up with the latest developments. Upskilling and continuing to learn are important if you want to be the very best that you can be in your managerial role, and ensure that your business is poised to take full advantage of any opportunities that come its way.
As a manager, you need to lead from the front and set a good example for your team. When your employees see your commitment to improving your skills and continuing to learn even when you're at the top of the organisational hierarchy, it will encourage them to improve their skills too. But how do you go about upskilling?
There are countless online courses in Sydney that you can enrol in to improve your management skills and potentially also develop new skills that might be applicable to the industry you are working in. Taking different courses in an effort to upskill and improve your knowledge will ensure that you are fully equipped to deal with the responsibilities that come with being in a management position.
Let's take a look at just a few other things you should know about upskilling as a manager.
Finding The Right Course
As every management role is different, you need to ensure that you choose a course that will benefit you in your current position. It's important to do a little self-analysis here to identify areas of your game where you are weaker and need to develop your skills. Understanding where you can make improvements or where you need a little extra help, will greatly simplify the process of choosing the right course for you.
Once you have identified some courses that you think could benefit you, you can begin doing some research and start looking at feedback provided by former students or more formal course reviews. Taking the time to read up on the past experiences of students can also help you better ascertain whether or not those courses will be beneficial for you at your current level.
Aim to Adapt To Changing Industry Landscapes
When you are upskilling, you need to ensure that you focus on developing new skills that will help both you and your wider organisation evolve and potentially even adapt to changing industry landscapes, whether they be fundamental changes or technological developments.
While you will naturally want to learn new skills that will help you with your own day-to-day responsibilities, you also need to think about the future of your company as a whole, and the infrastructure that's in place for employees who are on the rise themselves. After all, an effective team can only be developed by an effective manager.
Even if opportunities for promotion might not be on the horizon right now, developing an understanding of what directions your industry will be heading in, can help ensure that both your role and the structure of your business as a whole are well-prepared to accommodate these coming changes.
Industry-Specific Vs. General
There is an endless list of courses that managers can enrol in when it comes to upskilling. Some of these courses will be general management skills courses while others might be more specific to your industry. If you are considering moving to a new industry in the future and the reason for upskilling is to cater to this career shift, it might be better to focus on courses that are specific to your new industry.
Likewise, if you are hoping to secure a promotion for yourself in the near future, you might want to take some industry-specific courses to deepen your existing professional knowledge so you have the expertise required to lead from the top.
Some managers like to take more general management courses that will help them to develop certain aspects of their management style, such as improving their time management, communication, or leadership skills. Choosing between general management skills courses and industry-specific courses can be difficult, however. Understanding what your goals and your needs are will help you to make the right decision for the future of your own career in your selected industry.
Choose The Right Courses To Develop Your Skills And Further Your Career
When you are in a management role, it is easy to become complacent when it comes to developing your professional skills. Many people reach what they feel is their ceiling and get comfortable in their role. However, the truth is that your ceiling is what you make it, and by taking additional training over time, you can open yourself up to more opportunities down the line.
Following the tips outlined above, you can ensure that you choose the right upskilling courses to deepen your knowledge, improve your skills and develop your expertise so that you and your wider team can look forward to a future full of possibilities.
---
Back to WNA Blog
---